(I try to make my rules funny, so enjoy! I also underlined the main part of the rule and do not help newcomers find keys!)
Some of you right now are probably like.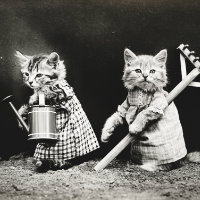 Here comes the hard work, I have to read! AHH!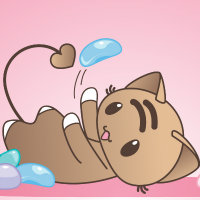 I dont mind reading, at least while eating.
NOOOO! I dont want to read..i guess i will though, gotta find those keys!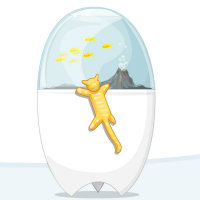 What did he just say? (Well pay attention next time! x3)
CHARACTER CREATION.
Wait, WHAT? I have to do certain things for my character? (Well of course, we like to be organized!) Since you are still paying attention then you will see that this is the first key that you will have 'Holidays'.
1.) You may make
at least 2 accounts
, then you will have to
buy extras
.
2.) If you are making
more than one account/character
,
still make a bio
for each, so we may know who/how they are. Although you do not have to put everything from the bio just the important info that you think is needed for everyone to know about that char.
3.) I think it is best if you just make
different accounts for each character
rather than characters on the same account, this is because it will have your cat organized to a certain group or rank and it could be confusing on other ones and you cannot put profile information on them.
4.)
Injured and disabled cats may be made with requesting.
They should be made with the limits of their injuries in mind. We however
DO NOT
accept deformed and badly injured cats, of course unless you are already on the site and fought a lot and was injured. (This requires you to retire to the elder rank if really bad.)
5.) Cats of
all gender and sexualities are allowed
as long as they are made appropriately. (No trans or gay characters.)
6.)
Names are accepted on a case by case basis.
Just make sure that the name is reasonable. DO NOT name your cat things like cody1123, Samurai Boulder, or Yama kaji. [Hence no different languages but English unless asked which will rarely be a yes.] Your username does not have to be your cat's name, but usually should be since you have to make separate accounts.)
7.)
Kit ages are born-6 moons, apprentice ages are 6-12 moons, older cats are 12 moons and more.
8.) Users may only have
1 High Rank character at a time
unless otherwise stated.
POSTING.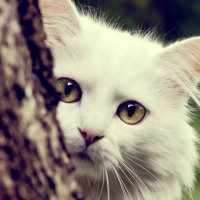 Nope i do not, I repeat DO NOT want to see anymore! pwease?
1.)
Do not Double Post, unless it is a bump.
Simply post bump-edited, or bump-updates if no one posted after you or even if it is very old and no one posted after you. Do not do this in rp unless you notify members first that the topic is still there.
2.) I shouldn't have to say this, but
no god-modding or power-playing.
You should know what these are by now. If you do not, simply type them in a Google search and you will soon understand.
3.) We ask that you keep posts around
6 sentences IC.
This is a literate site, and that isn't asking for much. If you are a few words off, we aren't going to ban you, so please don't squeeze awkward words to add five more! We understand. You will receive a warning if your posts are less than 5 sentences in rp.
4.) Our entire forum is
DOHTML friendly!
So please feel free to use tables and templates for your posts. However, don't feel as though you have to. If you feel more comfortable without one then so be it!
5.) Once again, keep your posts
PG-13
, no exceptions! You can join if you are 12+.
6.)
Check out posts Daily and try to post at least once a day!
CBOX.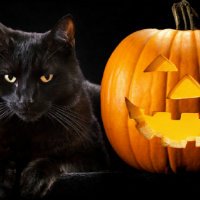 Now we're talking! Haha get it? Talking...i know im funny.
1.) There will be
no spamming or advertising
in the CBox. We have advertising boards for a reason, and spamming doesn't make anyone happy. Spamming means any post that is useless, or could have been put in another post. Well i guess since you made it this far ill give you the last key, but dont just leave just because you have the key! Finish the rest its not much more. 'Leaders'.
2.) Kindness and respect is a
MUST
, for everyone. If there is a troll in the CBox, your being mean or getting angry is
NOT
helping, I promise. Just ignore the trolls and go about your business. I can ban them if I have to, but if you get out of line, I'll have to ban you as well.
3.) Try
not
to
argue on the Chatbox
, this should be left to rp.
4.) You may
ONLY
curse here
RP.
Finally no more! >:3
1.) Members,
Besides mods.
Do not create any rp areas
, if you have any ideas on some, you may contact staff members or post it in the idea thread.
2.)
Do not act like you are so strong, big, or smart
; it can get
annoying
to others.
3.) Rp in
third person only
, please.
4.) You may be any type of cat, if you have any questions pm an admin or go to the questions thread.
5.)
No one is to be a human, but you may power-play them 
(and only humans), when you are near two-leg areas. Meaning you can say Ex: The two-leg looked over at me and i have no hesitation and took off back into the forest.
OTHER.
Really...At least its only two things. (Not if i can think of something else HAHAHAR!!)
*Do not copy things from our site.
*If you have any questions, ask any of the staff members.
#Rules